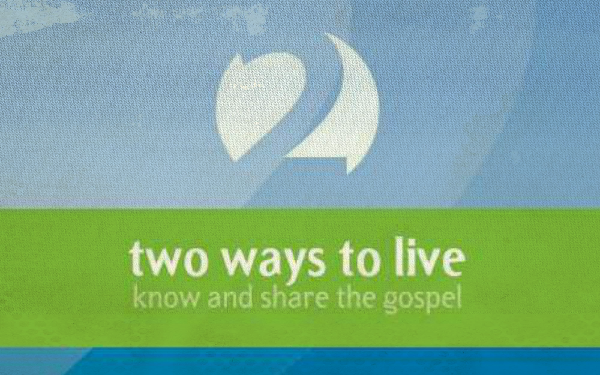 Two Ways to Live, Six Steps to Encouragement

Two Ways to Live, Six Steps to Encouragement
By Jim Witteveen
"We often lack confidence in speaking about the good news of Jesus Christ, and we wonder if we'll have the answers ready if people ask questions – and so we fear speaking out at all. If only to help believers to develop confidence in speaking about God, His judgment, and His mercy, and about spiritual matters in general, this program is very helpful."
A number of weeks ago I mentioned on my blog that we were using Matthias Media's "Two Ways to Live" program as the subject for our Sunday evening Bible study. I promised some followup thoughts on that program, and now that we've finished that program, here they are! I also want to mention a course that we are close to completing – another course by Matthias Media, called "Six Steps to Encouragement."
Both of these courses are well worth using, and I would highly recommend them for any small group study. "Two Ways to Live" is an excellent method of framing of the gospel message, from creation, to fall, to God's judgment, to God's provision of a Saviour, to the new life that believers have in that Saviour, concluding with this challenge: there are two ways to live – God's way, and our way; which one will you choose?
What I like about this program is that it's adaptable to regular conversations, and it includes methods of using these six points in response to questions or comments in various situations. It's not a way of artificially turning conversations to a presentation of the gospel, but it's a way that we can be prepared to speak about the gospel in whatever situation we find ourselves in, naturally, and in context of a personal relationship. It's not a cookie-cutter approach, or a one-size-fits-all approach, and it doesn't assume that we will all use it in the same way.
I also appreciate the fact that the "Two Ways to Live" outline begins with creation. Because God is the loving Creator of the world, He deserves and demands our full allegiance. We don't give Him the honour He deserves, and He will not let that rebellion go on forever – He will punish sinners who do not acknowledge His rightful claim to our allegiance.
So in a brief, memorable series of steps, using repetition and rote learning, we learned the message of Scripture, and how to speak about it. The program requires that participants memorize a rote presentation, along with simple drawings and accompanying Scripture verses, and this is very helpful – not because we want to be parrots and simply repeat verbatim what we've learned, but because once you've memorized the presentation, it's easy to make adaptations to it so that it will work in different contexts.
I've been able to put what I learned to use, even while we were working through the course, and I know some of the other participants have found it very helpful as well. We often lack confidence in speaking about the good news of Jesus Christ, and we wonder if we'll have the answers ready if people ask questions – and so we fear speaking out at all. If only to help believers to develop confidence in speaking about God, His judgment, and His mercy, and about spiritual matters in general, this program is very helpful.
"Six Steps to Encouragement" is focused on a Christian's calling within the church, as part of the body of believers. This is a simple, six-week program that equips Christians to fulfil their task in encouraging (and admonishing) one another, for the good of the body of Christ. This program is also an excellent resource, especially because it reminds us that we are not called to be isolated believers, but that participation in the community of God's people is central to a life lived as a child of God.
Late last year we met as a mission congregation to develop a plan for 2012. The plan had two parts – an outward focus, dealing with our relationships in the community in which we live, and an inward focus, dealing with our relationships within the covenant community. We wanted to encourage outreach, as well as to encourage us to a greater dedication to the body, to our brothers and sisters in the church. Both are very necessary, and these two programs have been important stepping stones for us as congregation to continue to grow in both of these areas.
Check out  and use the Two Ways to Live resources!
Two Ways to Live mobile apps for iPhone and iPad 
Six Steps to Encouragement website